I know, I know... it has come and gone - so a late "Happy Halloween."
I had planned on dressing as my Centurion, but we get SO FEW Trick-or-Treaters (*ahem* Only 1 this year - Supergirl) - and I was wore out from work... so I passed on the Centurion. Then tonight at a Halloween Party (yes, late, as it was only time our friends could all get together) I had planned on being my Centurion again. However I would have to travel to another's house, only be there for 3 hours, all the effort and little kids, cat and dog running around again that I could step on/trip over, I passed again. And technically, why would a Cylon dress up as a Cylon on Halloween?
So what could I be?! I thought and finally something came to me… something very ugly, grotesque, scary and terrifying!!!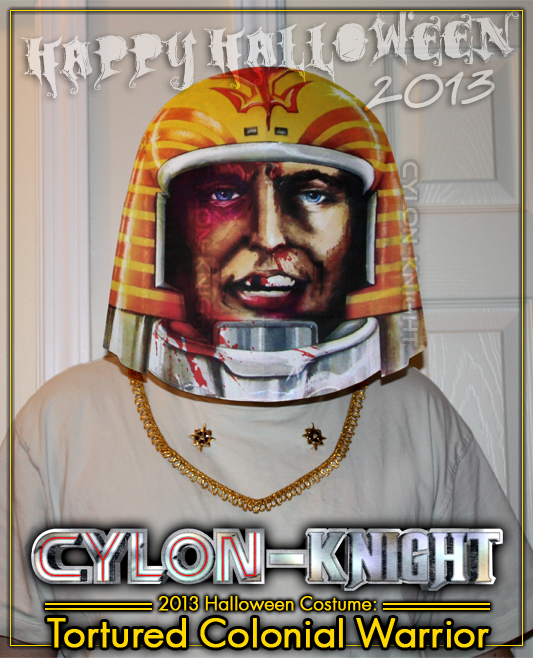 I recently bought a set of 1:1 "Galactica Warrior pins"

I got some "fancy pants" neck trim from my wife's scrapbook supplies

Then off to our BYC Gallery to capture a Colonial - the classic General Mills party mask (Link)...
THEN add a good ol' Cylon whoopin' (ala Photoshop)
...black eye, bloody nose, tooth busted out, fat lip - WHERE IS THE GALACTICA?!
A win for the Cylon Empire -and- cheap, lazy, last minute me
How about you and yours - any fun costumes?
"All base ships are now in range to attack the colonies."