Hey Guys, thought I'd take a break from Battlestar stuff, and try my hand at some Star Wars. I figure with the new movie coming out soon, why not,  Inspired by the great thread by Andre and Maruska, Here,
http://www.therpf.com/f10/sw-anh-5-foot-...ld-199048/
I thought I'd go ahead and build a Naked Five Foot Falcon, I figure if it doesn't work out, I can always turn it upside down and make a bird bath, LOL. If I get it right, I can add detail as I buy kits. I started by making a 79.05 inch trammel to draw the curve of the hull. That would be one humongous sphere if you had the whole thing. I started thinking of all kinds of router jigs and such to carve the shape, but ended up putting on my sculpting hat. The only thing I hate more than sculpting, is painting , yuck ! Sorry about the picture quality, camera is old and on the fritz.
Drawing and Mdf Template
First I cut out a 1/8 th  pie slice of foam. I was going to do a whole quarter at a time, but it was too much to bite at one time.
I used the Mdf template to draw the curve on the foam.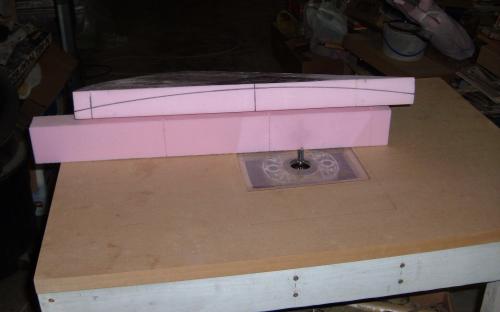 Got out the ole hacksaw blade and started wacking away anything that didn't look falconish,
After a few hours of hacking and sanding, cough, cough, I had this.
Here it is from the back.
Here's one with the required Coke can, LOL. It's diet but it does the job.
Then I had to make another piece just like the first and glue them together. With the two 1/8 slices together I now had a 1/4 hull section.
I couldn't get it perfect by hand, so I made a jig I call the "Blade". It's a scrap piece of 1/2 inch Mdf cut to the exact hull curve. I
epoxied a piece of brass tube that can pivot on a bolt. I then glued on a strip of 100 grit sandpaper to the bottom of the  "blade". By
sweeping back and forth it sands the wedge to exact shape. It's hard to describe so here's some pics.
Now I'm just waiting for some resin and glass to harden up this puppy. Figure I'll glass it and pull a mold. Then I can cast up sections to piece together. I may end up making a half hull mold. I'll see how it works out. Should have my supplies in a week or so. To be continued........
Cheers,
Joe